The Pents are Coming! 
Ahoy fellow travelers, 
In the Summer of 2012 I spent some several months constructing a 5 sided cogitation/audio recording/dwelling & dreaming domicile for a 5 sided sound project to be conducted within a forest behind a 16th century château in a rather unoccupied area of the Massif Central area of France. 
The 'Pent Pouch' album, recorded entirely in the 'PENT TENT', was given out in a mini-edition (of 55) to those who helped to finance the enterprise. 
5 years later I'm finally releasing this music publicly in 5 varieties of 5 sided formats… Over the next weeks I'll share a few recollections & mementos of the process. 
For now here are some fotos of our furry familiars prancing among the coulemelle in the Pent Tent era.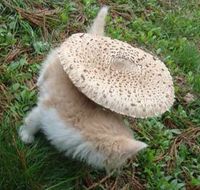 ---Pentagonal Sound Producers in Production!---  
Pent shaped Vinyl and Pent housed Compact Discs are available to pre-order. Comes with photo cards of the pent tent, B'ee and furry familiars, liner notes etc. in corduroy pent pouch with loop style cherrywood pentagonal buttons.  
*SHIPS on or before AUGUST 1st *