We'd like now to encourage you to refrain from BUYING THINGS as much as you can this season….  But if you must BUY THINGS you can BUY THINGS from us---We'll even give you a FREE THING when you BUY THINGS from us in order for you to have one less THING TO BUY.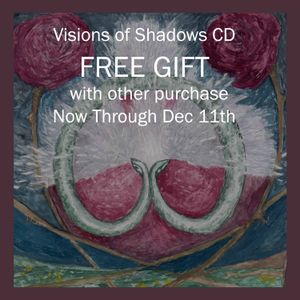 FREE GIFT TO YOU AND YOURS: 
IN GOWAN RING CD album 'Visions of Shadows that Shine' for the First 11 days of December when you ALSO buy anything else in the store form us. (*Limited one FREE THING per paypal account) OFFER ENDS December 11th  when we hope to be done going to the post until next year… 
____________________________________________________
"As we approach the times when men and women feel the need to assuage their sense of impending doom and self-impotence…"  
listen to 'Mammonmass Undone!' 
as antidote to Winter Wonderland... 
-- B'ee performing Live in Concert at Headwaters Theater, Portland, Oregon December 12th, 2014. -- 
Happy Winter-Tides! -B'ee